Search for Toy Boat 2 – The "Looking Around Phase"
The "looking around phase" took over a year, and involved a lot of time on the Web, reading reviews, talking to people, and visiting boat shows and dealer showrooms. Each source of information had its own set of Pros and Cons:
| | | |
| --- | --- | --- |
| Source | Pros | Cons |
| Manufacturer websites | Direct source, technically accurate | Not always up-to-date, photos and other information not complete, difficult to judge quality and design points, obviously biased |
| Boat Shows | Hands on, direct view of features, quality & construction | The model you want may not be there, dealer reps are not always knowledgeable & the manufacturer reps may not be there |
| Dealer visits | Hands on, direct view of features, quality & construction | May not be a dealer near you, salespeople are not always knowledgeable or interested in selling the model you want |
| Owner feedback | "The Real Deal" | Owners are not always unbiased, either for or against, and sometimes let their personal situation affect their opinions (e.g. how the dealer treated them). They may not always have had realistic expectations when they purchased their boat. |
| Magazine reviews | Broad range of manufacturers, sometimes very detailed analyses of performance | Very rare to find a truly critical review. Most magazines review the products of their advertisers, so tend to soft-peddle the boats and gloss over issues. |
| Boating websites | Broad range of manufacturers, sometimes very detailed analyses of performance | Combine "Owner Feedback" and "Magazine Reviews" |
One bright spot was the discovery of a newsletter/magazine called "Powerboat Reports". PBR was modeled after Consumer Reports. They accepted no advertising, ran quantitative tests, and reported the results in an unbiased fashion. Definitely a useful publication, but I guess you can figure out what happened to them…Still, they were good while they lasted.
Another bright spot was finding out how many people already fish offshore in small boats. While not commonplace, there are more than a few people doing this. Talking to them, trading e-mails and participating in discussion board threads provided a wealth of information.
I originally started with the idea that I would only consider manufacturers with dealers within 200 miles of San Diego. I eventually widened the search to include manufacturers from the East and Southeast who would sell direct, or had dealers who would ship hulls to California.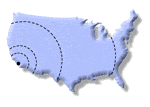 In the end, I gave up on that last idea. Too much can happen to items shipped across the nation by rail or truck, and I didn't want to deal with the possibility of receiving a damaged boat, or having to drive to the East coast or Texas to pick it up. There would also be the issue of licensing and taxes – nothing insurmountable, but probably a hassle.
There was one manufacturer that I felt was worth treating as an exception to this rule: Pacific Skiffs (http://www.pacificskiffs.com), located in Washington state. They had such an outstanding product that I was willing to deal with the issues mentioned, although their boat ultimately wound up getting cut due to price.
Another hurdle I hadn't counted on was the number of dealers that would only sell boat / motor packages. Part of the industry consolidation, I guess, but a bit disappointing.