Hinged Horizontal Rod Racks
This works…
We put hinges and latches on our horizontal rod racks to allow them to fold flat against the hull. We were hoping to provide more walkaround area when not fishing.
But could be better…
It turns out we hardly ever use the folding feature, but we have managed to break four of the hinges. We also originally installed just two racks per side. This did not provide enough support for doubled up rods (i.e. one  facing forward, one facing back in the same row).
So we did this…
We added a third row of rod racks, non-folding, to add additional support for the doubled-up rods.
Need to find some time to remove the hinges and latches on the old racks, and put the original fixed mounts in place. Not a priority, however…
Dual Lowrance Transducers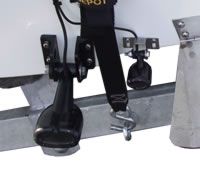 This works…
Dual Lowrance sonar transducers, transom mount.
The larger transducer is an 8 degree 192kHz transducer for deep water use. The smaller transducer is a 20 degree 192kHz transducer for general use down to approximate 300ft.
But has some issues…
The dual Lowrance transducers (20 degree and 8 degree 192 kHz) worked OK, but in order to get a clean reading at speed from the 8 degree transducer (the big one on the left), we had to submerge it so much that it threw a rooster tail when running the boat.
But could be better if we did this…
We never came up with a good solution for this problem. However, in the years since we launched, we've run through 3 additional sonar units: a Furuno LS6100, a Raymarine DS-600, and most recently, a Lowrance HDS7 Gen2.   The Airmar P66 and P58 transducers used by the Furuno and Raymarine sonar units did not have this problem. For our Lowrance HDS7 we went with a "shoot-thru-hull" installation. In a "shoot-thru-hull" install, the face of the transducer is glued to the inside of the hull in a spot where there is solid fiberglass. This also works well.